Rosé all day – A wine for every meal

As the weather peaks and troughs through spring, and we are treated to an influx of glorious warm, sunny days between cooler spells, our palates begin to crave crisper, fresher wine styles to suit the change in our diet.

We embrace the new season's produce, as spring salads replace slow cooker dishes, and we begin to explore a range of fresh dishes from across the globe.

There are few wines that better traverse the seasons and a wide plethora of cuisines as well as Rosé. But how did our tendency to reach for a glass of pink wine come to be?

Origins – From the Romans to now

Legend has it the Greeks and Romans used to make a 'Rosé' wine simply because they did not separate white and red grapes prior to crushing, creating a pink hue and a more tannic rosé due to the extended crushing of stems, seeds and skins.

Other legends insist that most sophisticated Greeks drank wine diluted with water, reducing the alcohol content, subsequently altering the colour of red wines to a lighter shade of red.

Today, Rosé wine making techniques reduce skin contact to rarely more than a few hours, pressing the juice from red grapes to gently release the pink free-run juice without releasing the tannin of the seeds and skins.

Provence - It's all in the style.

When the Grecians and the Romans made their way to France, they cultivated land to grow vines around the region that we now call Provence, meaning this region has been making Rosé since around about 600BC. These vineyards were eventually purchased by the King's nobles and members of the infantry, and treated with great care thanks to respect for wines that were becoming revered around the world.

Today, Provence is arguably the Rosé capital of the world, exporting their wines all over the world and renowned for a fruity yet dry style that requires excellent timing and some carefully curated skills in the winery.

Grapes traditionally used include Grenache, Cinsault and Mourvedre, creating wines with complex flavour profiles for their deceptively pale colour.

Laid back and with accessible, all-rounder appeal, today's Provencal Rosé style is widely celebrated and replicated around the world, while particularly suited to Australia's climate and our penchant for world-class fresh produce.

Current Release: Atze's Corner 2019 Barossa Valley Rosé –

We first made Rosé back in 2013 when my early ideas of what worked from a packaging perspective left a little to be desired! We put to bed the idea of making a Rose' until 2017, opting for a slightly more refined package.

Stylistically, we were initially aiming for a slightly fruitier, fuller-flavoured and rounder style using the grenache grape as the main component and some Graciano to give it a bit of a pop.

While we really enjoyed drinking the 2017 and 2018 wines, for the 2019 vintage we were looking for a wine closer to the French Provencal, lighter summer style. We picked slightly earlier and pressed the juice from the skins sooner, resulting in a paler hue.

We also removed the Graciano from the blend and increased the Mourvedre component to keep the wine a bit leaner.

The result? A nice pale pink Provence style of Rosé with a soft mouthfeel and flavours of strawberry, pomegranate and delicate florals, lifted by a refreshing acidity. Our Rosé is at home chilled at the dinner table, on the beach or on the deck with friends while enjoying the sunshine...

Get yours…

Rosé for spring… a cliché that works so well! Buy Five Bottles and receive one of our gift wrapped candles for free. Our candles are made from our wild rose bottles and retail at $30RRP.


Get your Atze's Corner 2019 Barossa Valley Rosé with bonus handmade candle now. 
Leave a comment
Comments will be approved before showing up.
---
Also in Stories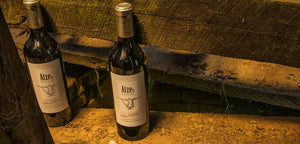 We are thrilled to share a momentous milestone with you - the 15th anniversary of our beloved Eddie's Old Vine Shiraz! It's been an incredible journey since our inaugural 2005 vintage, and now, 15 vintages later, we are proud to present the 2020 vintage of this exceptional wine.
The history of Shiraz wine in both France and the Barossa Valley is a testament to the influence of terroir on grape development. In France, Syrah thrived in the Rhône Valley, producing elegant and refined wines that captivate the senses.
From its origins as a grape bred for disease resistance to its rise to prominence in California and Australia, Durif has carved a path of distinction.
From California to Rutherglen and beyond now to the Barossa, its velvety texture, dark fruit flavors, and hints of pepper leave a lasting impression on those fortunate enough to experience it.